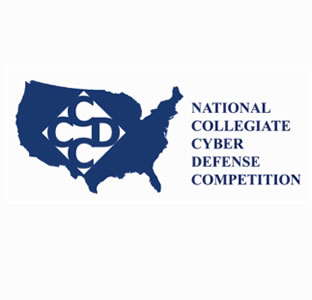 The UTSA Center for Infrastructure Assurance and Security (CIAS) today announced the 10 finalists for the National Collegiate Cyber Defense Competition (NCCDC) Championship. The NCCDC, presented by Raytheon, will return to San Antonio for the 10th consecutive year. The three-day national championship kicks off April 24 at the San Antonio Marriott Riverwalk Hotel and features the top 10 teams from universities across the country applying their skills in defending against cyber-attacks and operating a small business network. The National Champion will be awarded with the Alamo Cup on April 26.
Founded in 2005 by the CIAS, the national competition has grown to include qualifying state and regional level competitions. NCCDC is modeled after real-world commercial business environments, and challenges collegiate teams to successfully keep a company running despite constant cyber attacks. To win, undergraduate and graduate students must secure and maintain servers and workstations, manage data, administer users, and perform common business-related and administrative tasks while fending off attacks from a live opposition team.
The NCCDC is the largest collegiate cyber defense competition program in the world and the first to specifically focus on the operational aspect of managing and protecting an existing "commercial" network infrastructure. NCCDC provides institutions with an information assurance or computer security curriculum a controlled, competitive environment to assess their student's depth of understanding and operational competency in managing the challenges inherent in protecting a corporate network infrastructure and business information systems. It also provides the best and brightest students an opportunity to shine on a national stage and connect with the top cyber security firms in the country.
The winners of the 10 regional CCDC events are: At-Large Regional: University of Alaska Fairbanks; Mid-Atlantic Regional: University of Maryland, Baltimore County; Midwest Regional: DePaul University; Northeast Regional: Rochester Institute of Technology; North Central Regional: University of Nebraska at Kearney; Pacific Rim Regional: ITT Tech Boise; Rocky Mountain Regional: Southern Utah University; Southeast Regional: University of Central Florida; Southwest Regional: The University of Texas at San Antonio; Western Regional: University of California, Berkeley.
"The students that compete at the National Collegiate Cyber Defense Competition are the next wave of cyber experts – these are people who will guard our critical cyber infrastructure against sophisticated threats," said Dave Wajsgras, president of Raytheon Intelligence, Information and Services. "Through our partnership with NCCDC, Raytheon is not only providing financial support, volunteers, and experts, but also technology to create a realistic experience. Through our efforts, and those of the other sponsors, we are helping to develop the cyber security workforce of the future."